Lots of "phone sex companies" say that they can do "domination phone sex."
Of course, they have no idea what that really means.
They just think it sounds good enough to get you to pick up the phone.
But we understand Phone Sex Domination and FemDom Phone Sex - in all of its forms.
Because when you call us, you'll be talking to lifestyle Dommes and real-life Mistresses.
Many of our Mistresses are traditional. They enjoy being the severe Dominatrix, making you squirm beneath Their stiletto heels. They'll bind you, gag you, whip you, and make you completely submit to Their will in dungeon scenarios that will hurt even your imagination. And once you have freely submitted, they may even allow you to relieve your sexual tension. Then again, they may fuck you with a strap-on, if it pleases Them. More specialized requests for a Dungeon Session, such as flogging, hot wax, suspension - you name it - are all available. Physical and mental abuse (or torture), all forms of punishment, submission and love - our lifestyle Dommes expertly bring then all together when you call for traditional Domination Phone Sex.
There are many other types of Domination Phone Sex.
Explore them all with us.
877 - 882 - OBEY
Here's what those other people don't understand - but you understand it and we understand it.

There are so many ways for a phone sex Mistress to dominate a caller, supplicant or slave, that it's hard to count them all.

CBT phone sex? Ballbusting (with kicking, punching or slapping)? Tease and denial or cock control? Our skilled Mistresses can torture you or train you - the pain can be excrutiating, exquisite and sensual.

SPH (small penis humiliation) phone sex by bratty teen girls? Cuckolding wives who will put you in your place and humiliate you, make you watch or clean up their creampies? Our teens, cheating and trophy wives, and cum whores are into every flavor of sensual humiliation.

Domination can take other forms as well. We have skilled Mistresses who will aid in your feminization, sissification or crossdressing - forced or voluntary. Transformation fantasies? Our Dommes love to make them come true.

We also have Dommes who specialize in financial domination and blackmail, racial and religious humiliation phone sex, forced intoxication and substance abuse - some of our Mistresses have real lessons to teach, that will surpass your wildest fantasy.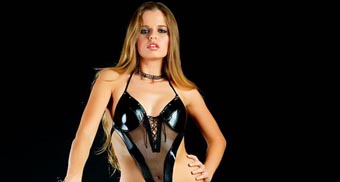 Phone Sex Domination doesn't
have to be cruel or physical.
Check out sensual domination.
877 - 63 - SLAVE
We use the term sensual domination phone sex to cover a number of different specialities. In its purest form, Mistresses who practice sensual domination use honey instead of gasoline - a whisper instead of a scream - a feather instead of a flogger. They dominate your mind more than your body.

Some of the tools and techniques used for this purpose can include erotic hypnosis by trained hypnoDommes - sensual humiliation and possession - guided roleplay taken to a potentially forbidden extreme. In all of its forms, it provides one of the most satisfying domination experiences possible: complete submission and surrender, leading to complete and utter freedom.

Lifestyle Mistresses and Pro-Dommes skilled in all types of Domination are available 24 hours a day.
877 - 882 - OBEY
---